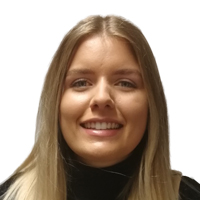 Molly Curran
Recruitment Consultant
Telephone

email

Location
I joined HR GO Recruitment in Bishop's Stortford in August 2018 as a Resourcer on the Commercial desk, working closely with and supporting Kelly Howard, the Commercial Consultant. My role consists of dealing with both permanent and temporary agency staff working in and around Bishop's Stortford. I write job adverts, conduct CV searching on all of the leading job sites and also interview potential candidates over the phone and face to face. Prior to this, I worked for an independent luxury Travel Agency liaising with customers on a daily basis regarding their holidays. I have been able to utilise my excellent customer service and organisational skills from this job, in my current role now. I thrive within a busy and fast-paced working environment and I look forward to developing my career within HR GO Recruitment.
Outside of work I enjoy travelling to new places across the world and play hockey for my local team.
required:This field is required.
applicantName:Please enter your name.
applicantEmail:Please enter a valid email address.
applicantTelephone:Please enter a valid telephone number.
cvRequired:Please upload your CV.
cvFilesize:Please submit a file larger than 0 bytes.
cvExtension:Please upload a .doc, .docx, pdf, .rtf file.