Here are our hand picked jobs available in Liverpool. If you'd like to speak to a consultant see the job details, or find a local branch.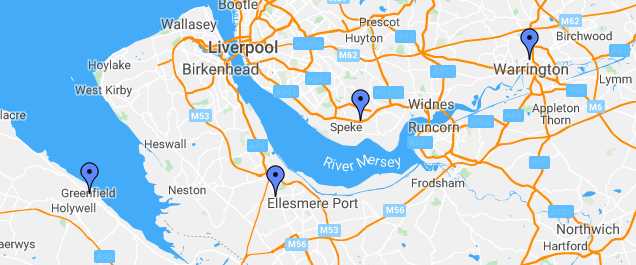 Nobody likes looking for a new job. Job hunting is time consuming, and boring, and the job adverts can soon all blur into one. It can seem like all you do is sift through job sites trying to find something that sounds like it will suit you. Meanwhile, well-meaning friends and family tell you there are "plenty of jobs in Liverpool" and can't understand why you're struggling to find the right job vacancy. They mean well, but everything you can find you're either not qualified for, or are qualified but couldn't accept such a low salary. Whether you're looking for full-time or part-time jobs in Liverpool, take some of the stress out of job hunting with HR GO, who can help you find the right job vacancy for you.
If you're in the process of looking for job vacancies in Liverpool and finding it frustrating, then you can use HR GO's website to find a selection of handpicked jobs around the city. You can trust that our advisors have selected each job we share very carefully, so you can be sure these listings will offer a fair salary, challenging work and a pleasant place to work. Using these listings can save you the time of searching through endless jobs that aren't right for you, and instead helps you to narrow down relevant listings for jobs you might actually want to apply for. 
HRGO Liverpool Recruitment Branches
If you need a little more help finding the right job, you can call into one of our branches in Liverpool to speak to our advisers in person. They can not only help you to find the right jobs to apply for, but can also offer advice on the best way to polish up your CV, give you interview tips and help you with any other questions you might have about applying for work. The main Liverpool branch is in Ellesmere Port, or you can make an appointment at the branch in Speke. The Speke branch is by appointment only, but has the same great links with local companies to help you find a job that you can make into a lasting career. The main branch covers the whole of Liverpool, offering jobs in Huyton and beyond. It also has listings for job vacancies in the top part of North Wales, such as Rhyl, which is an easy commute from Liverpool. If you're looking for jobs in Speke, the office here also focuses on Merseyside, Hurston, Garston and more.  
At HR GO, you can find jobs in all kinds of areas, so we can help you whether you're looking for retail jobs, office jobs or hospitality jobs. You'll find job vacancies in Liverpool in all kinds of sectors, such as driving, engineering, IT, medical and nursing, real estate and social care, to name just a few. We have roles in transport, marketing, the public sector, legal, education and the automotive sector. Whether you're trying to find your first step on the career ladder after University or are looking for a career change a few years into your working life, HR GO can help you. 
Error executing child request for handler 'System.Web.Mvc.HttpHandlerUtil+ServerExecuteHttpHandlerAsyncWrapper'.
Error executing child request for handler 'System.Web.Mvc.HttpHandlerUtil+ServerExecuteHttpHandlerAsyncWrapper'.
"Great agency. Great staff who are all really helpful! No issues with finding me consistent work. Highly recommended."

- Craig
;
required:This field is required.
applicantName:Please enter your name.
applicantEmail:Please enter a valid email address.
applicantTelephone:Please enter a valid telephone number.
cvRequired:Please upload your CV.
cvFilesize:Please submit a file larger than 0 bytes.
cvExtension:Please upload a .doc, .docx, pdf, .rtf file.