Here are our hand picked jobs available in Kent. If you'd like to speak to a consultant see the job details, or find a local branch.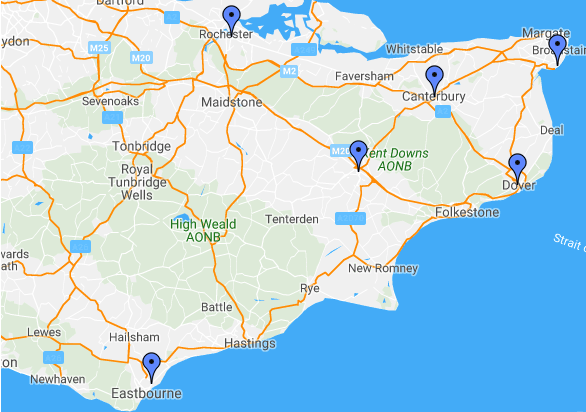 Whether you're looking for full or part-time jobs in Kent, HRGO has all the listings you could need to make it happen. With a wide range of job vacancies in Kent to suit every skill set and career need, we've already changed lives across the county. Our Kent listings could well change your life too. Simply settle down, get your CV up to scratch, and begin browsing our quality job offerings from a variety of sectors. Our helpful staff are always on hand to help you find the perfect job.
Included within our job listings are catering jobs, office, driving, and even retail jobs in Ashford, Kent, Maidstone, Folkestone, Ramsgate, Whitstable, and beyond. Right at this moment, we've also got temporary jobs in Gravesend, as well as wide-ranging roles in out of the way locations like Faversham and Thanet. 
Local Kent Recruitment Branches
HRGO is pleased to offer a range of branches and positions to take your career hunt to the next level no matter where in Kent you're based. Even if you aren't within easy branch reach, our online portal should offer you a world of opportunities across Kent depending on your needs. 
It's simple; wherever you are in Kent, we have the offerings you need to give your career a boost and get yourself where you want to be in life. Even better, we make the application process as easy as possible so you can apply from wherever you are, whenever you fancy. We really are passionate about people, and we won't stop until we've found the ideal career for you.
HRGO offers a wide range of jobs in Ashford and beyond, and we're proud to bring updated Kent listings to you every single day. By getting into a regular habit of checking our postings, you open yourself to opportunities from a wide range of sectors.
Whether you fancy working in a Kent warehouse or want to break into the complex world of business accounting across the Kent landscape, we can get you there. Simply head in-branch or browse our listings today, then say hello to a brighter future tomorrow!
"Brilliant recruitment company, both Carly and Luci were great! very helpful and managed to keep me in temporary work. I now have a permanent position with encouragement from Carly throughout the process and I am pleased to say a big 'thank you'. I absolutely love my job and the people I work with. I feel Carly and Luci really listened to what I wanted to do as a career and delivered."

- Maria
;
required:This field is required.
applicantName:Please enter your name.
applicantEmail:Please enter a valid email address.
applicantTelephone:Please enter a valid telephone number.
cvRequired:Please upload your CV.
cvFilesize:Please submit a file larger than 0 bytes.
cvExtension:Please upload a .doc, .docx, pdf, .rtf file.