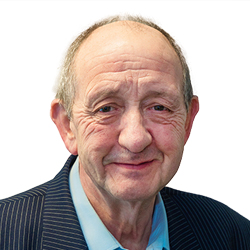 Jack Parkinson
Chairman
Telephone

email
Philosophy
"HR GO is proud of its reputation for reliability, high-level performance and a proven track record of delivering for clients and candidates."
Profile
Jack is a recruitment pioneer. In 1977, he joined the business that his mother Betty had founded 20 years earlier. He worked alongside her to grow the enterprise to the major plc that it is today, with HR GO Recruitment at its core.
HR GO Recruitment started life as Parkinson Staff Bureau, and Jack supported his mother in growing the offices throughout the south east, expanding to 18 by 1988. Since then the company has continued to expand to cover the North and South West of England, alongside the heartland of Kent. 
In 2015 HR GO London was opened. 
Jack has two children and has interests in property renovations, classic cars and fly fishing.
required:This field is required.
applicantName:Please enter your name.
applicantEmail:Please enter a valid email address.
applicantTelephone:Please enter a valid telephone number.
cvRequired:Please upload your CV.
cvFilesize:Please submit a file larger than 0 bytes.
cvExtension:Please upload a .doc, .docx, pdf, .rtf file.